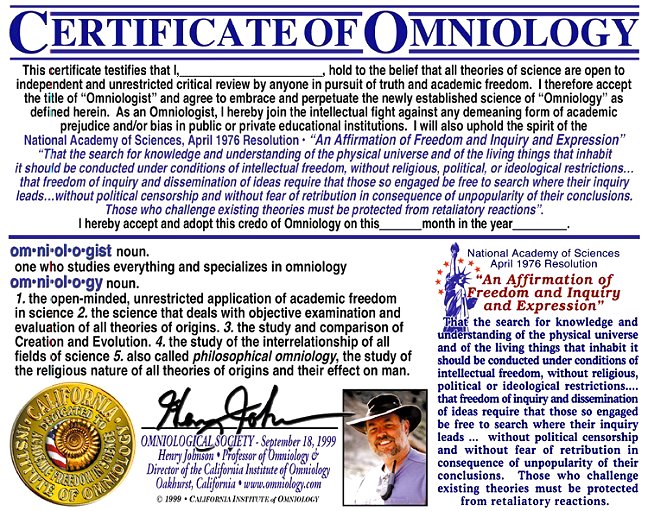 IF YOU AGREE WITH THESE TENETS ABOVE, YOU ARE AN OMNIOLOGIST AT HEART!
CLICK HERE - THEN PRINT YOUR 8x10 OMNIOLOGY CERTIFICATE
Visit the
Content Page

HOME

BY PRINTING OUT THIS "CERTIFICATE OF OMNIOLOGY", SIGNING & DATING IT, YOU HEREBY ARE GRANTED THE TITLE "OMNIOLOGIST".

THIS IS AN HONORARY DEGREE FROM THE OMNIOLOGICAL SOCIETY AND THE CALIFORNIA INSTITUTE OF OMNIOLOGY.

WE REQUEST ONLY THAT YOU MAKE A PERSONAL COMMITMENT TO THESE PRINCIPLES, AND THAT YOU PROMOTE TRUE ACADEMIC FREEDOM, EVERYWHERE, AT ALL TIMES.

WE ALSO WOULD LIKE TO KNOW OF ANY EMPIRICAL EVIDENCE (EVOLUTIONARY X FILES, ARTIFACTS, FOSSILS, PICTURES OR VIDEOS) YOU MAY BE AWARE OF THAT WE COULD VERIFY AND POST ON THIS WEB SITE.

ALL CONTACTS WILL BE KEPT CONFIDENTIAL.
CONTACT HENRY

CLICK HERE