THE JACKALOPIAN "ARTICLES OF FAITH" REQUIRED FOR DINO-BIRD EVOLUTION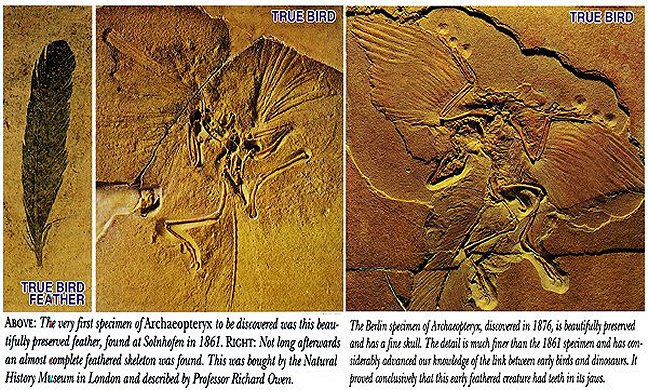 THE GRAPHICS ON THIS PAGE ILLUSTRATES, IN THEIR OWN WORDS, WHAT MACRO-EVOLUTIONARY, DINOSAUR-BIRD DENOMINATIONALISTS, "TRULY BELIEVE" HAPPENED IN THE PAST.

KEEP IN MIND, THIS IS A SILLORY PRESENTED AS A FACT WITH NO "INDISPUTABLE, EMPIRICAL TRANSITIONAL FORMS" TO PROVE IT.

ALL THEY HAVE IS THEIR DOGMATIC, "RELIGIOUS BELIEFS" AND SEVERAL IMAGINARY, JACKALOPIAN RECONSTRUCTIONS AND THAT'S ALL!

THIS IS NOT AN UNBIASED AND LEGITIMATE PRESENTATION OF EMPIRICAL SCIENCE BY ANY STRETCH OF THE WORD.

WHAT THIS IS, IS THE PERPETUATION OF A RELIGIOUS [ METAPHYSICAL ] BELIEF WITHIN OUR PUBLIC SCHOOL SYSTEM.

THIS IS A STATE SANCTIONED RELIGION, PURE AND SIMPLE!!

IF YOU FIND THIS HARD TO BELIEVE, READ ON AND JUDGE FOR YOURSELF.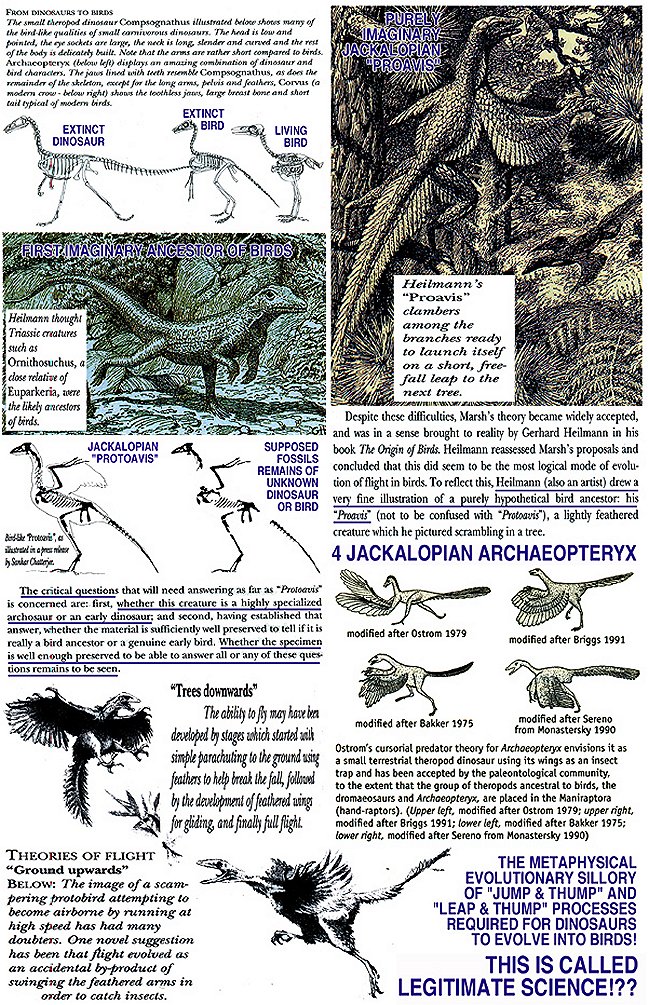 DINO-BIRD EVOLUTIONISTS CLAIM THAT THE SIMILARITIES IN SKELETAL STRUCTURES OF THE SMALL THEROPOD DINOSAUR COMPSOGNATHUS AND THE TRUE EXTINCT BIRD ARCHAEOPTERYX ARE PROOF THAT DINOSAURS EVOLVED INTO CROWS.

SINCE THERE ARE NO FOSSIL LINKS BETWEEN "COMPSO, ARCHAEO & CROWS," TRUE BELIEVERS SIMPLY MAKE THEM UP. THEY CALL THESE JACKALOPIAN TRANSITIONAL FORMS PROAVIS AND PROTOAVIS.

THESE ARE THE MYTHOLOGICAL BIRDOSAURS OF MACRO-EVOLUTIONARY DINOLOGY.

ANOTHER PROOF THAT EVOLUTION IS A RELIGION IS SEEN IN THE FOUR DIFFERENT INTERPRETATIONS OF THE PATRON SAINT ARCHAEOPTERYX. ACCORDING TO THE 4 APOSTLES OF DINOLOGY, OSTROM-BAKKER-BRIGGS-SERENO, THEIR INDIVIDUAL INTERPRETATIONS HAVE CAUSED FURTHER DENOMINATIONAL SPLITS WITHIN THE CHURCH OF SAINT ARCHAEO.

THE REAL "LEAP OF FAITH" REGARDING THIS DINO-BIRD SILLORY LIES IN THE TWO OPPOSING "GOSPELS OF FLIGHT." THEY ARE THE "TREES DOWNWARD" OR "JUMP & THUMP" AND THE "GROUND UPWARDS" OR "LEAP & THUMP" GOSPELS AS DEFINED ABOVE.

IN SPITE OF THIS SILLORY, THERE HAS NEVER BEEN A WITNESSED RESURRECTION OF ANY DINO-BIRD TRANSITIONAL FORMS.

ARCHAEOPERYX AND CORVUS ARE TRUE BIRDS AND COMPSOGNATHUS IS A TRUE THEROPOD DINOSAUR.


IF YOU STILL DON'T BELIEVE THAT EVOLUTIONISTS PRACTICE "JACKALOPIAN RECONSTRUCTIVE ANATOMY," HERE'S JUST A FEW "PUBLISHED" EXAMPLES OF ARCHAEOPTERYX TO CONSIDER.


YOU MIGHT WANT TO CLICK ON OUR WEB PAGE THE HOATZIN AND "BIOLOGICAL THERMODYNAMICS" TO CONSIDER THE PART THAT "GENETIC DEVOLUTION" HAS PLAYED ON THE ANCESTORS OF ARCHAEOPTERYX.
---
The California Institute of Omniology recommends that Teachers & Students investigate this information in libraries for yourselves. We believe that what you will find is that "Macro-Evolution is not an empirical fact" at all. What it really is is "Metaphysical-Imagolution," science fiction produced from the imaginary mind of man.

Return to Contents