"13,000" YEAR OLD CRETACEOUS LIMESTONE "EMPIRICALLY VERIFIED"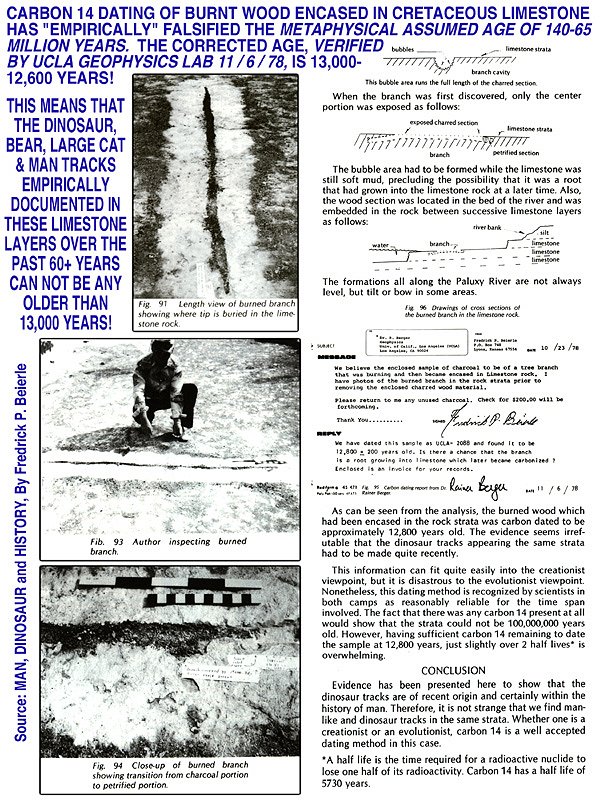 CLICK HERE - For Complete C-14 Research Data

Return to Contents
THE FOLLOWING IS THE CARBON DATING REPORT FROM DR. RAINER BERGER, GEOPHYSICS, UNIV. OF CALIF., LOS ANGELES (UCLA)...AND I QUOTE!

"WE HAVE DATED THIS SAMPLE AS UCLA-2088 AND FOUND IT TO BE 12,800+/- 200 YEARS OLD. IS THERE A CHANCE THAT THE BRANCH IS A ROOT GROWING INTO LIMESTONE WHICH LATER BECAME CARBONIZED? ENCLOSED IS AN INVOICE FOR YOUR RECORDS."

AS YOU CAN SEE, THE BRANCH WAS NOT A ROOT.
THE FACT THAT DR. BERGER COULD DATE THE BRANCH AT ALL, AND BY ASKING THE QUESTION HE DID, MEANT ONLY ONE OTHER THING.

THE ARBITRARY "METAPHYSICAL" DATING OF CRETACEOUS LIMESTONE HAS CONCLUSIVELY BEEN FALSIFIED BY THE "EMPIRICAL SCIENTIFIC METHOD", YOU SEE BEFORE YOU!