HOW DINOSAURS EVOLVED INTO BIRDS OR
NATURALISTIC SALVATION BY EXERTION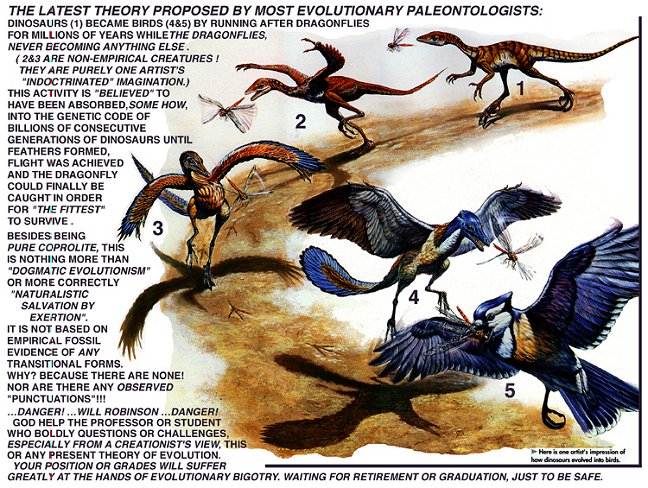 THIS ILLUSTRATED DINOSAUR TO BIRD "FAIRY TALE" CAN BE FOUND IN THE 1999 BOOK ENTITLED "THE ORIGIN AND EVOLUTION OF BIRDS."

JUST THINK FOR A MINUTE WHAT A SILLY THEORY [SILLORY] THIS REALLY IS!
METAPHYSICAL MACRO-EVOLUTION IS A "CAUSE & EFFECT" RELIGION WHICH BELIEVES THE FOLLOWING.

ACCORDING TO THE "GROUND UP" [OR JUMP & THUMP] DENOMINATIONALISTS OF DINO-BIRD EVOLUTION, DINOSAURS "HAD TO EVOLVE" INTO BIRDS IN ORDER TO ENSURE THEIR SURVIVAL UP TO THE PRESENT.

IN SPITE OF THE FACT THAT EVOLUTIONARY DOGMA DEMANDS THAT ALL EVOLUTION IS A "RANDOM CHANCE PROCESS," THIS "SILLORY" REQUIRES THE DINOSAUR TO BE ABLE TO ACCOMPLISH THE "RECOMBINANT DNA PROCESS," PURELY BY "RANDOM CHANCE," TO ACHIEVE THE END RESULT SO STATED! THE RECOMBINANT DNA PROCESS COUPLED WITH RANDOM CHANCE IS AN OXYMORON AND IRRATIONAL AT BEST!!


THE EMPIRICAL SCIENTIFIC METHOD HAS PROVEN THAT INCREASED OR NEW GENETIC INFORMATION, CANNOT AND DOES NOT ACCUMULATE "NATURALLY" IN THE GENETIC CODE OF ANY OF GODS' CREATURES. THE ONLY TWO OBSERVATIONS MADE IN NATURE BY MAN HAVE BEEN, ADAPTIVE GENETIC CHANGE "WITHIN PREEXISTENT BOUNDARIES" OF ANY PARTICULAR SPECIES OR KIND OF ANIMAL AND THE LOSS OF GENETIC INFORMATION, AND THAT'S IT!


TO FOLLOW THE ILLOGICAL CONCLUSION OF THIS DINO-BIRD "SILLORY", ALL OF THE VARIETY OF BIRDS THAT EXIST TODAY HAD TO EVOLVE FROM SEPARATE AND DISTINCT DINOSAUR SPECIES OR THEY ALL HAD TO EVOLVE FROM ONLY ONE!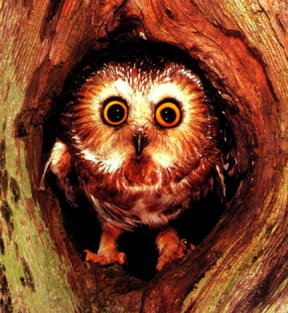 LET'S TAKE THIS LITTLE OWL FOR INSTANCE.
HOW DID HE END UP WITH A FLAT FACE, BIG FORWARD LOOKING EYES AND A SHORT DUMPY BODY?

ACCORDING TO THE DINO-BIRD "SILLORY" IT WOULD PROBABLY ONLY HAPPEN ONE OF TWO WAYS.

FIRST; WHILE RUNNING AFTER DRAGONFLIES, WHICH GAVE HIM "PURPOSE" FOR EVOLVING FEATHERS, HE OCCASIONALLY OR OFTEN WOULD SLAM, FACE FIRST, INTO TREES OR ROCKS.

THIS WOULD CAUSE COMPACTION OF FACIAL AND SKULL FEATURES, NOT TO MENTION THE COMPRESSION OF HIS BODY DUE TO CENTRIPETAL FORCE, THEREFORE, EXPLAINING THE FLAT FACE AND DUMPY BODY.

THESE ABRUPT IMPACTS WOULD OBVIOUSLY CAUSE SOME DEGREE OF BRAIN DAMAGE, WHICH WOULD EXPLAIN WHY HE AND THE THOUSANDS OF HIS FUTURE GENETIC OFFSPRING WOULD CONTINUE TO DO THIS TO THEMSELVES UNTIL FLIGHT WAS ACHIEVED.

AS FOR HIS BIG FORWARD LOOKING EYES, THESE FREQUENT COLLISIONS AND GRADUAL COMPACTION OF HIS LONG SNOUT WOULD CAUSE HIS SIDE LOOKING ORBS TO COLLAPSE INWARD TO THEIR FORWARD LOOKING POSSITIONS.

HIS LARGE EYES OBVIOUSLY EVOLVED AS A RESULT OF THE SHOCK AND WIDE-EYED AMAZEMENT EVERY TIME HE AND HIS THOUSANDS OF OFFSPRING SMACKED INTO A TREE OR ROCK!

SECOND WAY; AFTER SUCCESSFULLY EVOLVING INTO A BIRD, HE BEGAN TO EXPERIENCE FREQUENT COLLISIONS AS WELL AS THE EVOLUTIONARY PROCESS MENTIONED ABOVE. THE END RESULT WOULD OBVIOUSLY BE THE SAME.

---
"SILLORY" IS A COMBINATION OF SILLY & THEORY AND IS DEFINED AS FOLLOWS
1. Exhibiting a lack of wisdom or good sense; foolish
2. Abstract reasoning; speculation and conjecture

IF YOU HAVE AN EVOLUTIONARY "SILLORY" THAT YOU WOULD LIKE TO SUBMIT FOR POSTING ON OUR WEB SITE, SEND US AN E-MAIL


Return to Contents