THE CREATION MODEL "IS" SCIENTIFICLY TESTABLE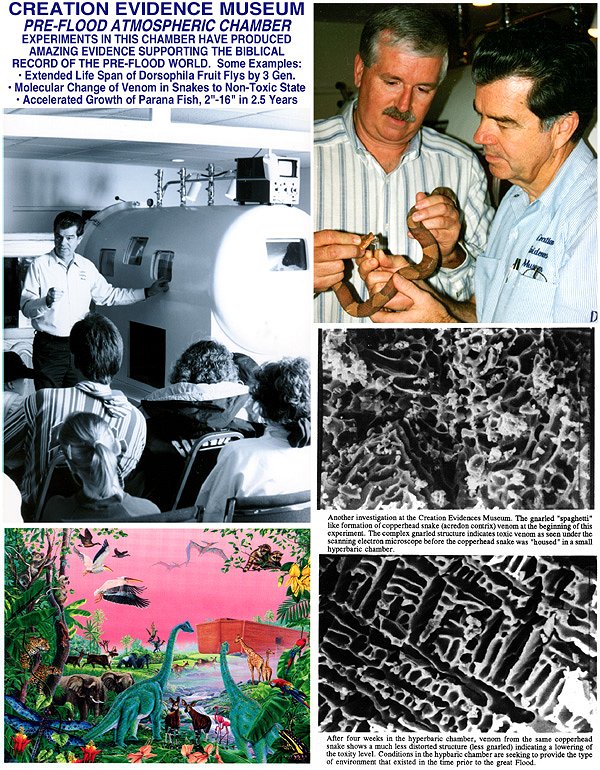 Dr. CARL BAUGH, DIRECTOR OF THE CREATION EVIDENCE MUSEUM, INVENTOR & PATENT HOLDER OF THE WORLDS FIRST "HYPERBARIC BIOSPHERE" TO TEST THE BIBLICAL PRE-FLOOD ATMOSPHERE HYPOTHESIS WHICH IS BASED ON THE HISTORICAL RECORD OF GENESIS.

GENESIS STATES THAT THE EARTH AND ALL THE LIFE FORMS WERE CREATED "PERFECT" AND DESIGNED TO LIVE FOREVER. IT ALSO STATES THAT AFTER THE FALL OF MAN, ALL THE ELEMENTS, WHICH EVERYTHING WAS MADE OF, WERE CURSED. IT GOES ON TO RECORD A GRADUAL DEGENERATION OF THE WHOLE CREATION UNTIL THE RECORDED "FLOOD OF NOAH", AND A VERY RAPID DEGENERATION THEREAFTER.

THIS INDICATES THE INSERTION AND INCREASE OF ELEMENTAL THERMODYNAMICS (EVERYTHING CREATED GETS OLD, WEARS OUT, DEGENERATES AND DIES) INTO THIS PERFECT CREATION. ONE AMAZING RECORD IS THE LONGEVITY DECLINE OF MAN. FROM THE CURSE TO NOAH'S FLOOD THE PATRIARCHS "OVERLAPPING" LIFE SPANS ARE RECORDED AS SLOWLY DECLINING WITH AN AVERAGE AGE OF MEN AT 917 YEARS UNTIL THE FLOOD. THE PATRIARCHS "OVERLAPPING" LIFE SPANS BORN AFTER THE FLOOD TO JOSEPH ARE RECORDED AS RAPIDLY DECLINING WITH AN AVERAGE AGE OF MEN AT 250 YEARS. BY THE TIME OF CHRIST, THE AVERAGE LIFE SPAN IS ABOUT 70 YEARS. WHY!!!

THE TEST HYPOTHESIS IS, BY USING SCIENTIFIC DATA SHOWING THE DECLINE IN THE EARTHS MAGNETIC FIELD, OZONE SHIELD, ATMOSPHERIC PRESSURE & GASES AND CREATING CONDITIONS FOR EXTRAPOLATING BACKWARDS SOME 5-6000 YEARS, YOU SHOULD SEE A LATENT BIOLOGICAL INCREASE IN LONGEVITY, CELLULAR GROWTH AND CHANGE IN MOLECULAR STRUCTURES. THE PRELIMINARY RESULTS ARE SHOWN ABOVE.
Dr. BAUGH, AT NASA'S REQUEST, HAS BEEN SHARING HIS DISCOVERIES AND THEIR RELEVANCE TO THE SPACE PROGRAM. THE CLAIM BY THE NATIONAL ACADEMY OF SCIENCE, THAT "CREATIONISM IS NOT SCIENTIFIC OR TESTABLE" HAS BEEN "CONCLUSIVELY FALSIFIED!"

GO TO LONGEVITY CHART

Return to Contents