EMPIRICAL PHOTOGRAPHIC EVIDENCE OF MAN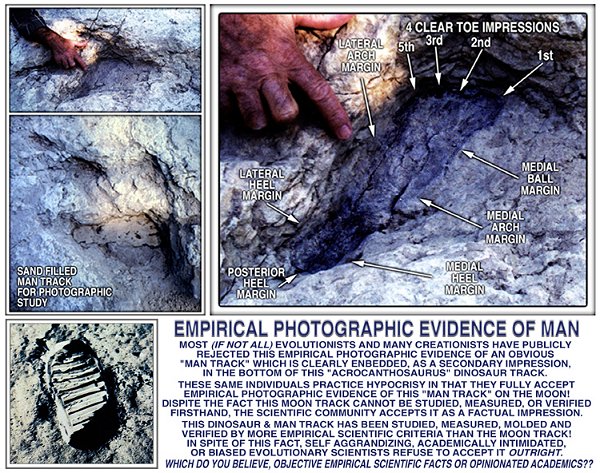 THE IMPORTANCE OF THIS SUBJECT AND THE QUALITY OF THIS TYPE OF EVIDENCE CANNOT BE STRESSED ENOUGH, IN OUR JUDGEMENT, FOR THE FOLLOWING REASONS.



THE EMPIRICAL SCIENTIFIC METHOD RELIES ON "OBSERVATION & EXPERIMENTATION" TO VERIFY OR FALSIFY ANY THEORY OR HYPOTHESIS IN THE PHYSICAL, REAL WORLD.
IT IS AN OBJECTIVE, NOT A SUBJECTIVE, RESEARCH METHODOLOGY.



UNFORTUNATELY THE EVOLUTIONARY SCIENTIFIC COMMUNITY HAS ABANDONED THE EMPIRICAL SCIENTIFIC METHOD AS IT RELATES TO THEORIES OF ORIGINS.
THIS IS PARTLY DUE TO THE FACT THAT THEIR PRIMARY THEORIES ARE METAPHYSICAL AND THEREFORE OUTSIDE OF EMPIRICAL SCIENTIFIC REVIEW.
THE CREATION SCIENTIFIC COMMUNITY'S PRIMARY THEORIES OF ORIGINS ARE ALSO METAPHYSICAL AND OUTSIDE EMPIRICAL SCIENTIFIC REVIEW.

IN SPITE OF THE FACT THAT THESE PRIMARY THEORIES ARE IMPOSSIBLE TO VERIFY OR FALSIFY, THE EMPIRICAL SCIENTIFIC METHOD CAN BE USED TO VERIFY OR FALSIFY WHAT THESE THEORIES PREDICT SHOULD BE FOUND IN THE REAL WORLD REGARDING THEIR VIEWS.



ONE EXAMPLE IS THE METAPHYSICAL CREATION CLAIM THAT MAN AND DINOSAURS COEXISTED IN THE RECENT PAST.
IN CONTRAST IS THE METAPHYSICAL EVOLUTIONARY CLAIM THAT DINOSAURS WERE EXTINCT FOR 65 MILLION YEARS BEFORE ANY ANCESTOR OF MAN WALKED ON TERRA FIRMA AND THEREFORE COULD NEVER HAVE COEXISTED.



THIS EMPIRICAL FOSSIL FOOTPRINT EVIDENCE, DOCUMENTED IN THIS PHOTOGRAPH, VERIFIES THAT "A HUMAN AND A DINOSAUR" COEXISTED AT THE SAME TIME AND PLACE,
IN WHAT IS NOW TEXAS, SOMETIME IN THE PAST.
WHAT IT DOES NOT TELL US IS "WHEN" THESE TRACKS WERE MADE.



THE FOLLOWING CAN BE CONCLUDED FROM THIS UNBIASED, OBJECTIVE EMPIRICAL FACT.



THIS FOSSIL "VERIFIES" THE CREATION CLAIM THAT MAN AND DINOSAURS COEXISTED.
IT NEITHER FALSIFIES NOR VERIFIES THEIR CLAIM "IN THE RECENT PAST."

CONVERSELY, THIS FOSSIL "FALSIFIES" THE EVOLUTIONARY CLAIM THAT DINOSAURS AND MAN NEVER COEXISTED. BUT, IT TOO DOES NOT FALSIFY NOR VERIFY THEIR CLAIM OF 3-65 MILLION YEARS WHEN THESE TRACKS COULD POSSIBLY HAVE BEEN MADE.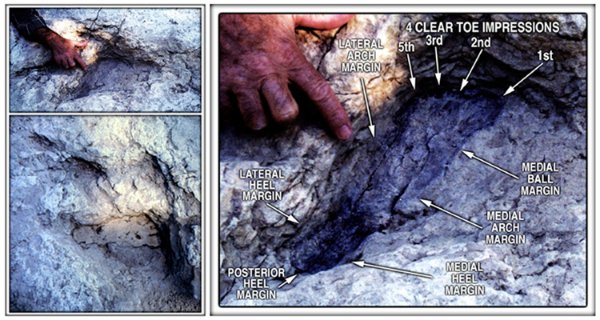 ALL THIS BEING TRUE, SOME OF THE QUESTIONS WE HAVE ARE AS FOLLOWS.



WHY HAVE EVOLUTIONISTS AND SOME CREATIONISTS REFUSED TO INVESTIGATE THIS EMPIRICAL EVIDENCE FOR THEMSELVES?

WHY DO THEY PUBLICLY CONDEMN AND RIDICULE THIS EVIDENCE AS WELL AS THE SCIENTISTS AND INDEPENDENT RESEARCHERS WHO HAVE INVESTIGATED, EXAMINED AND VERIFIED ITS AUTHENTICITY?



COULD IT BE DUE TO THE EVOLUTIONARY, IDEOLOGICAL BIAS AND AGGRESSIVE ACADEMIC PREJUDICE AGAINST CREATION SCIENCE AND CREATIONISTS IN OUR PUBLIC & PRIVATE EDUCATIONAL INSTITUTIONS?

COULD SOME CREATIONISTS BE "SELECTIVELY" COMPROMISING THEIR PAST COMMITMENT TO THE EMPIRICAL SCIENTIFIC METHOD IN THE FLAWED BELIEF THAT EVOLUTIONARY ACADEMICS WOULD BE MORE LIKELY TO LEGITIMIZE THEIR ACADEMIC CREDENTIALS?

ARE CREATION ACADEMICS BEGINNING TO USE SECULAR INSTITUTIONAL POLITICS TO PRESSURE OR EVEN THREATEN TO LEAVE AN ORGANIZATION IN ORDER TO STOP IMPORTANT RESEARCH THAT MIGHT DIRECT FUNDS AND ATTENTION AWAY, TO SAY PALEONTOLOGY, INSTEAD OF THEIR OWN FIELD OF, SAY GEOLOGY?
OR
ARE CREATION ORGANIZATIONS, INSTITUTIONS AND SCIENTISTS BEGINNING TO SUCCUMB TO WHAT THEY KNOW IS "THE WISDOM OF THIS WORLD" AND "THE DEEDS OF THE FLESH?"



THE CALIFORNIA INSTITUTE OF OMNIOLOGY BELIEVES THE ANSWER TO THESE QUESTIONS ARE OBVIOUS! BUT, WE HOPE THAT "ALL SCIENTISTS AND ACADEMICS" WOULD CONSIDER THESE TIMELY WORDS OF THOMAS JEFFERSON IN 1782 & 1776.



"Reason and free inquiry are the only effectual agents against error... They are the natural enemies of error, and error only... If [free inquiry] be restrained now, the present corruptions will be protected, and new ones encouraged."

"Error indeed has often prevailed by the assistance of power or force.
Truth is the proper and sufficient antagonist to error."

Return to Contents