COULD METAMORPHOSIS BE MISTAKEN AS MACRO-EVOLUTION?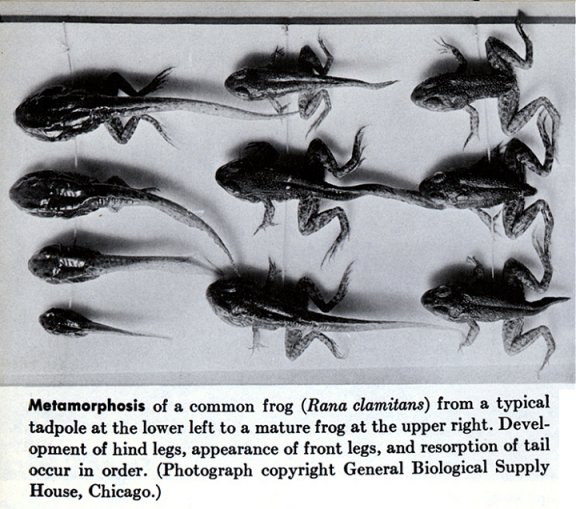 THE METAMORPHOSIS OF A COMMON FROG IS EVOLUTION, MICRO-EVOLUTION THAT IS. THIS TRANSFORMATION IS PREPROGRAMMED, BY A PROGRAMER, INTO THEIR GENETIC CODE. CREATIONISTS AND EVOLUTIONISTS BOTH ACCEPT THIS FACT. WHERE THEY DIFFER IS WHO OR WHAT THE PROGRAMMER WAS.

---
NOW LETS DO A LITTLE METAPHYSISIZIN' HERE FOR A MINUTE.
PICTURE THIS COMMON FROG AS BEING AN EXTINCT UNKNOWN SPECIES. NOW PICTURE ALL THESE FORMS BEING FOUND, IN SEQUENCE OF LOWER LEFT FIRST TO LOWER RIGHT LAST, OVER AN "UNKNOWN" PERIOD OF TIME IN THE GREEN RIVER FORMATION OF WYOMING. KEEP IN MIND, WE HAVE NO PRIOR KNOWLEDGE OF THESE CREATURES.

HOW WOULD THESE FOSSILS BE INTERPRETED BY CREATIONISTS AND EVOLUTIONISTS?
FIRST, EVOLUTIONISTS WOULD LABEL EACH FOSSIL AS A DISTINCTLY SEPARATE SPECIES. THEN THEY WOULD PROCLAIM THESE FOSSILS WERE BURIED OVER LONG PERIODS OF TIME AND ARE "PROOF" THAT THEIR MACRO-EVOLUTIONARY THEORY IS TRUE!

CREATIONISTS, ON THE OTHER HAND, WOULD PROCLAIM THESE FOSSILS AS "PROOF" OF CATASTROPHIC, RAPID BURIAL OF A RELATED SPECIES. THE SMALLER, LESS MOBILE CREATURE BEING BURIED FIRST WHILE THE LARGER, MORE MOBILE BEING ABLE TO SURVIVE LONGER BEFORE FINALLY BEING BURIED.

BOTH OF THESE "METAPHYSICAL" VIEWS ARE EQUALLY "SCIENTIFIC" AND PLAUSIBLE IN THIS ANALOGY BUT NEITHER GROUP COULD EMPIRICALLY "PROVE" THEIR VIEWS WITHOUT OBSERVING THESE CREATURES IN LIFE.

THE METAMORPHOSIS OF THE COMMON FROG IS THE VISUAL "POSTER CHILD" OF THE METAPHYSICAL, MACRO-EVOLUTIONARY PARADIGM. THE FACT IS, THE METAMORPHOSIS OF THE COMMON FROG IS THE EMPIRICAL "POSTER CHILD" OF THE MICRO-EVOLUTIONARY REALITY THAT TREMENDOUS CHANGE CAN AND DOES OCCUR WITHIN GENETIC BOUNDARIES OF A SINGULAR SPECIES. MACRO-EVOLUTION HAS NEVER BEEN OBSERVED BECAUSE OF THIS EMPIRICAL FACT.

MACRO-EVOLUTION IS METAPHYSICAL IMAGINATION PURE AND SIMPLE!
THE ONLY WAY A SPECIES GENETIC BOUNDARY CAN BE BREACHED, OR EVEN SET, AND THEN SUCCESSFULLY MIXED WITH ANOTHER IS BY "INTELLIGENT INTERVENTION." APPART FROM REASON AND LOGIC, TO ACCEPT ANYTHING ELSE IS A "LEAP OF FAITH" THAT AS SPIRITUAL, EMOTIONAL & PHYSICAL HUMAN BEINGS WE ARE FREE TO DO, BUT THE FACT REMAINS, MACRO-EVOLUTION IS NOT FOUNDED IN, OR SUPPORTED BY, EMPIRICAL SCIENCE.

Return to Contents