NATIONAL GEOGRAPHIC SOCIETY'S FRAUDULENT FLYING DINOSAUR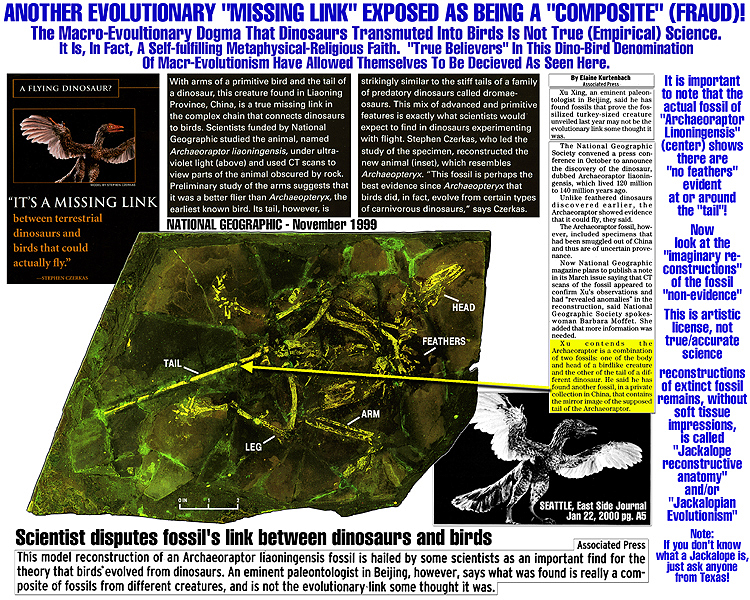 WHAT YOU SEE HERE IS ONE OF MANY FRAUDULENT ATTEMPTS BY EVOLUTIONISTS AND THE NATIONAL GEOGRAPHIC SOCIETY, TO CONVINCE THE PUBLIC THAT EVOLUTION IS A FACT AND THAT DINOSAURS EVOLVED INTO BIRDS. THE ONLY PROBLEM IS, THIS PARTICULAR FRAUD HAS BEEN EXPOSED.

THE NATIONAL GEOGRAPHIC SOCIETY, "THE" PRIMARY PUBLIC RELATION ARM OF THE SCIENTIFIC COMMUNITY, WAS ASKED NOT TO PUBLISH THIS "MISSING LINK" ARTICLE UNTIL AN OBJECTIVE EVALUATION AND EXAMINATION COULD BE DONE BY A PANEL OF SCIENTIFIC INVESTIGATORS.

BY IGNORING THIS ADVICE, THE N.G.S. HAS SUCCESSFULLY DISCREDITED ITSELF AND THE SCIENTIFIC COMMUNITY, AND SHOULD NO LONGER BE TRUSTED BY THE PUBLIC AS AN OBJECTIVE AND UNBIASED SCIENTIFIC PUBLICATION.

TO THEIR CREDIT, WE CAN SAY THAT IT IS AN EXCELLENT PHOTOGRAPHIC ART MAGAZINE AS WELL AS A PREEMINENT, MACRO-EVOLUTIONARY TABLOID AND PROPAGANDA TOOL.

TO UNDERSTAND WHAT MOTIVATES EVOLUTIONISTS TO PROMOTE THEIR METAPHYSICAL "RELIGIOUS" BELIEFS IN THIS WAY, READ OUR WEB PAGE "HOW EVOLUTION BECAME A RELIGION" WHICH WAS WRITTEN BY AN EVOLUTIONIST.


Return to Contents