WHY SCALES COULD NEVER BECOME "SCETHERS"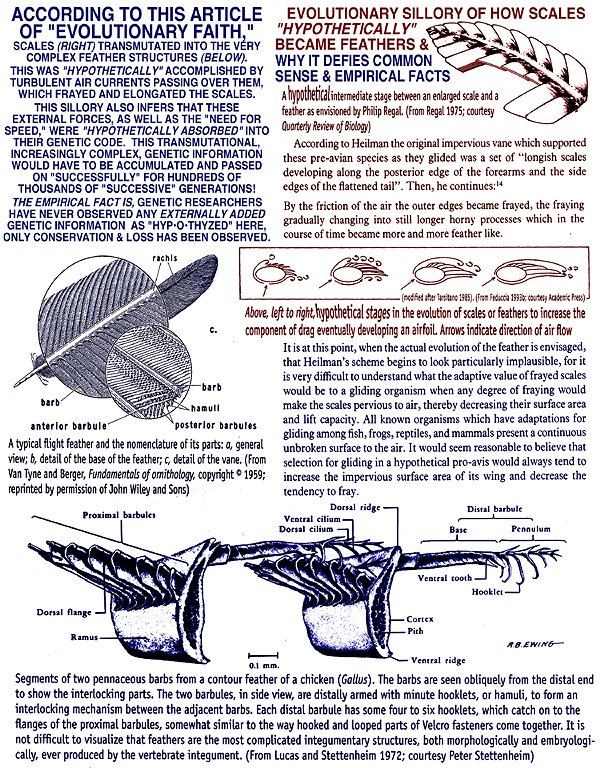 THIS IS A SILLY THEORY OR "SILLORY" BECAUSE IT DOES NOT TAKE INTO ACCOUNT THREE ADDITIONALLY RELEVANT FIELDS OF EMPIRICAL SCIENCE. THESE ARE PHYSICS, GENETICS AND PALEONTOLOGY.
1. EMPIRICAL RESEARCH HAS CONSISTENTLY DEMONSTRATED THAT THE PHYSICS OF AN AIRFOIL REQUIRE A NON-PERVIOUS SURFACE TO SUCCESSFULLY AND EFFICIENTLY SUPPORT GLIDING OR FLIGHT.

IF SCALES USED FOR GLIDING BECOME FRAYED AT THEIR POSTERIOR EDGES THEIR PREVIOUS EFFICIENCY IS DECREASED.

FRAYING WOULD IMMEDIATELY BEGIN TO SHORTEN THE DISTANCE THE GLIDER COULD GLIDE, WHICH IN TURN WOULD REDUCE ITS CHANCES OF SURVIVAL.

A SIMPLE TEST OF THIS CAN BE DONE WITH A PAPER KITE OR AIRPLANE.
PROGRESSIVELY FRAY (SHRED) THE BOTTOM EDGES OF THE KITE OR AIRPLANE AND COMPARE ITS ABILITY TO FLY, BETWEEN EACH "FRAYING," WITH HOW IT FLEW BEFORE IT WAS "FRAYED."
2. EMPIRICAL RESEARCH HAS CONSISTENTLY DEMONSTRATED THAT THE GENETIC ACCUMULATION OF "EXTERNAL MODIFICATIONS" TO BIOLOGICAL SYSTEMS ARE NOT INHERITED OR PASSED ON TO SUCCESSIVE GENERATIONS, WHICH IS REQUIRED HERE. THIS IS KNOWN AS "THE DOCTRINE OF LAMARKIAN EVOLUTION," WHICH CLAIMED THAT GIRAFFES EVOLVED LONG NECKS & LEGS BY CONSTANTLY STRETCHING FOR FOLIAGE JUST OUT OF REACH. THIS SILLORY HAS LONG BEEN REJECTED BY THE EVOLUTIONARY CLERGY.

APART FROM THE "METAPHYSICAL" MACRO-EVOLUTIONARY DOGMA ATTACHED TO BIOLOGY TODAY, THE ONLY EMPIRICAL GENETIC FACTS KNOWN TO SCIENCE REGARDING "EVOLUTIONARY" CHANGE OF ANY BIOLOGICAL SPECIES IS "MICRO-EVOLUTIONARY" IN NATURE, NOT "MACRO-EVOLUTIONARY."

MICRO-EVOLUTIONARY CHANGE IS, EMPIRICALLY, "VARIETAL" CHANGE WITHIN LIMITED GENETIC BOUNDARIES OF A SPECIFIC SPECIES. THERE ARE MANY "VARIETIES" OF REPTILES WITH SCALES AND THERE ARE MANY "VARIETIES" OF BIRDS WITH FEATHERS.

MACRO-EVOLUTIONARY CHANGE IS, METAPHYSICALLY, "TRANSMUTATIONAL" CHANGE WITH UNLIMITED GENETIC BOUNDARIES OF ALL SPECIES. THERE ARE NO REPTIRDS WITH SCETHERS AND THERE ARE NO BIRTILES WITH FETHALES.
3. EMPIRICAL RESEARCH HAS CONSISTENTLY DEMONSTRATED THAT THE FOSSIL RECORD HAS ONLY PRODUCED FOSSILS OF BIRDS WITH FEATHERS AND REPTILES WITH SCALES. AS OF THIS DATE, 11-3-2000, THERE HAS NEVER BEEN A SINGLE, INDISPUTABLE DISCOVERY OF A "SCETHER OR FETHALE" LET ALONE A "REPTIRD OR BIRTILE!"

IF ANYONE READING THIS CAN PRODUCE INDISPUTABLE EMPIRICAL EVIDENCE TO THE CONTRARY, PLEASE CONTACT US AND WE WILL POST IT ON THIS WEB SITE.



Return to Contents