EVIDENCE OF MAN THROUGHOUT THE GEOLOGIC COLUMN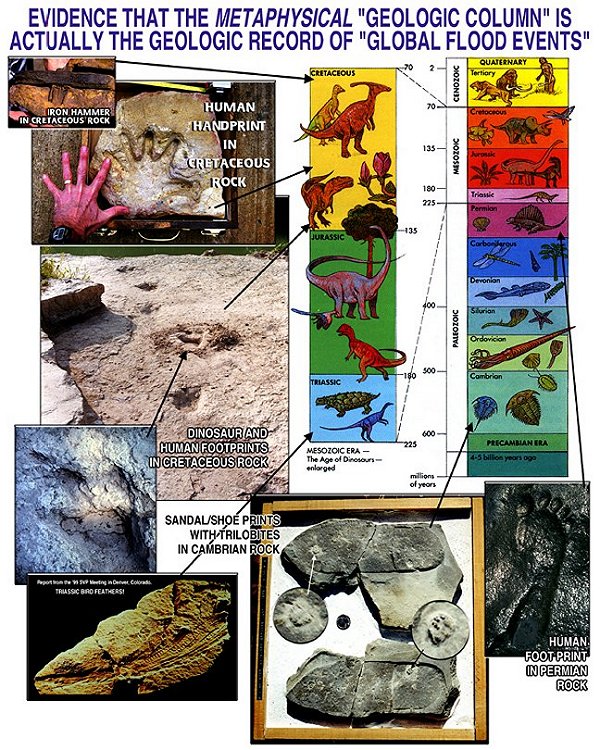 THESE ARE JUST A FEW OF THE EMPIRICAL EVIDENCES THAT FALSIFY THE METAPHYSICAL "EVOLUTIONARY" GEOLOGIC COLUMN.

THE INTERNATIONAL, MACRO-EVOLUTIONARY SCIENCE COMMUNITY HAS SUPPRESSED DISCOVERIES LIKE THESE FOR OVER 100 YEARS. SCIENTISTS HAVE BEEN FORBIDDEN TO INVESTIGATE OR PUBLISH PAPERS ON ANY EMPIRICAL EVIDENCE THAT WOULD FALSIFY THEIR METAPHYSICAL MACRO-EVOLUTIONARY WORLD VIEW.

AS HAPPENS DURING THE REIGN OF ANY OPPRESSIVE REGIME, ACADEMIC REBELS AND FREEDOM FIGHTERS BEGAN BUCKING THE SYSTEM IN THE EARLY AND MID SIXTIES. INDEPENDENT RESEARCHERS BEGAN DOCUMENTING EMPIRICAL EVIDENCE THAT CLEARLY FALSIFIES MANY ASPECTS OF THE "MAJORITY HELD VIEW" OF MACRO-EVOLUTIONISM.

THIS EVIDENCE HAS BECOME SO OVERWHELMING THAT THE ESTABLISHED SCIENTIFIC COMMUNITY IS RUNNING SCARED. THEIR PUBLIC ATTACKS AND PROFESSIONAL THREATS ARE HEATING UP.

MILLIONS OF DOLLARS ARE BEING RAISED BY ANTI-CREATION AND ANTI-ACADEMIC FREEDOM ORGANIZATIONS LIKE, THE NATIONAL ACADEMY OF SCIENCE, THE AMERICAN HUMANIST ASSOCIATION, THE AMERICAN ATHEIST'S, THE A.C.L.U. AND MOST UNIVERSITIES AND ACADEMIC INSTITUTIONS. THIS IS BEING DONE TO PREVENT EVIDENCE LIKE YOU SEE ON OUR WEB SITE FROM GETTING INTO OUR PUBLIC SCHOOLS WHERE IT SHOULD BE.

IF YOU WANT TO JOIN THE GOOD FIGHT FOR ACADEMIC FREEDOM, YOU CAN START HERE. BECOME FAMILIAR WITH ALL OUR WEB PAGES, E-MAIL OUR WEB SITE TO FAMILY AND FRIENDS. PLEASE SEND US ANY QUESTIONS OR "EMPIRICAL X FILES" YOU MIGHT KNOW OF.
Click Here to Contact California Institute of Omniology

Return to Contents