DOES THE HOATZIN REPRESENT
"BIOLOGICAL THERMODYNAMICS?"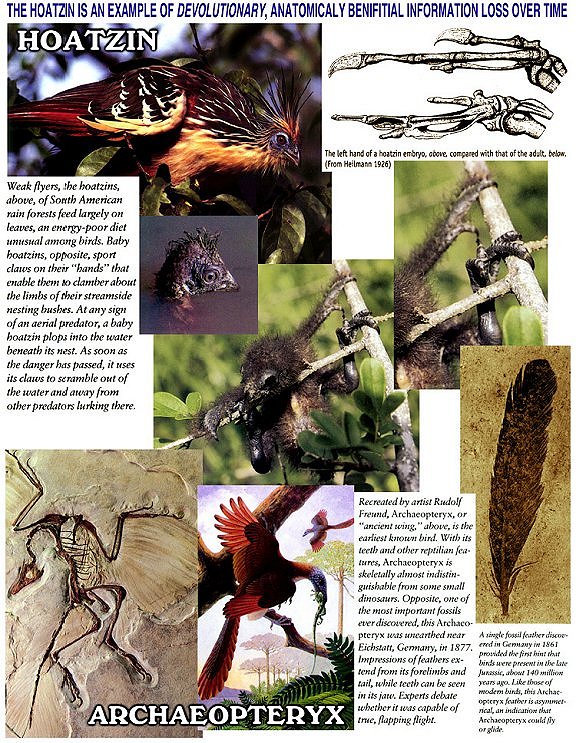 THE SECOND "LAW" OF THERMODYNAMICS APPLIES TO EVERYTHING IN THE PHYSICAL UNIVERSE. THE EMPIRICAL SCIENTIFIC METHOD HAS PROVEN THIS "FACT" AGAIN AND AGAIN.

THIS SECOND LAW, SIMPLY STATED, SAYS EVERYTHING GOES FROM ORDER TO DISORDER, DECAYS, GROWS OLD, LOSES GENETIC INFORMATION, ETC.. THE QUESTION IS, SINCE GENETIC (INFORMATIONAL) THERMODYNAMICS IS OCCURRING IN ALL LIVING ORGANISMS, IT IS HIGHLY PROBABLE THAT MANY BIRDS IN THE PAST HAD CLAWS LIKE ARCHAEOPTRYX. THIS WOULD BE AN OBVIOUS ADVANTAGE TO BIRDS TODAY.

THE CLAWS OF HOATZIN CHICKS (CENTER & UPPER RIGHT) APPEARS TO BE A "VESTIGE" OF PREVIOUSLY MORE COMPLEX ORDER OF THEIR ADULT SPECIES.

THE METAPHYSICAL CREATION MODEL MAINTAINS THAT "THERMODYNAMIC MICRO-DEVOLUTION" HAS BEEN OCCURRING EVER SINCE IT WAS INTRODUCED, SOON AFTER CREATION WAS FINISHED.

THE METAPHYSICAL EVOLUTION MODEL MAINTAINS THAT "ANTI-THERMODYNAMIC MACRO-EVOLUTION" HAS BEEN OCCURRING EVER SINCE THE "BIG BANG."

THE EMPIRICAL SCIENTIFIC METHOD HAS CONSISTENTLY VERIFIED MANY OF THE CREATION MODELS CLAIMS, WHILE VERIFYING NONE OF THE EVOLUTION MODELS CLAIMS.

AS ABSURD AS THIS SOUNDS, IT IS NONE THE LESS TRUE!
THE REASON FOR THIS IS PROFOUNDLY SIMPLE; RELIGIOUS BIGOTRY, EGO & MONEY!

---
THE EVOLUTIONARY PARADIGM, AS PUT FORTH BY DARWIN, WAS ACCEPTED AS TRUE BEFORE IT WAS EVER PUT TO THE "EMPIRICAL SCIENTIFIC TEST." UNDER THIS NEW METAPHYSICAL BELIEF SYSTEM, EVOLUTIONARY ZEALOTS IN ACADEMIA BEGAN, RE-WRITING TEXT BOOKS, ESTABLISHING NEW FIELDS OF SCIENCE TO ACCOMMODATE & PERPETUATE EVOLUTION, GRANTING DOCTORATES AND PREFERENTIAL TREATMENT, ESPECIALLY MONEY, TO THOSE WHO JOINED THIS NEW "METAPHYSICAL SCIENTIFIC RELIGION!"

ONCE THIS PROCESS BEGAN, MACRO-EVOLUTIONISM BECAME A "SELF FULFILLING PROPHECY" AND ANYONE WHO FALSIFIES IT IS COMMITTING HERESY AGAINST THE CHURCH OF DARWIN!
Return to Contents