THREE EXAMPLES OF CATASTROPHIC, VERY RAPID BURIAL OF
ICHTHYOSAUR "MOMMIES" CAUGHT IN THE PROCESS OF GIVING BIRTH!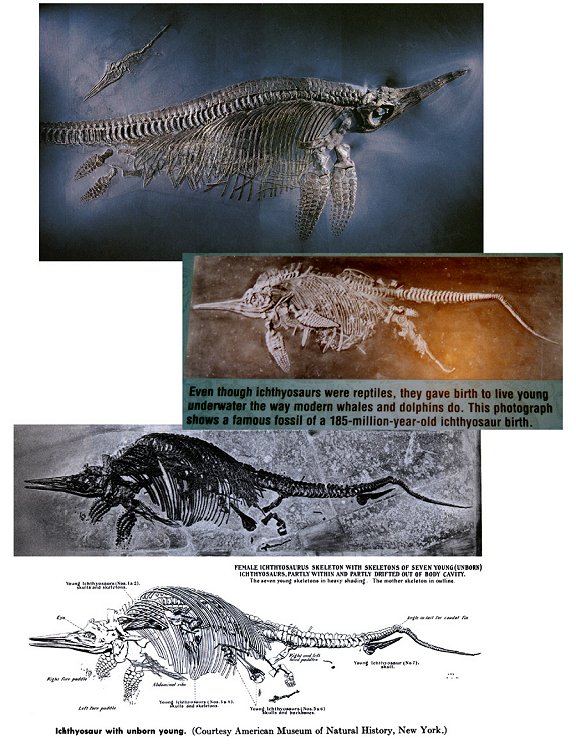 THESE ICHTHYOSAURS ARE JUST 3 OF 8 PUBLISHED FOSSILS, THAT I HAVE DOCUMENTED TO DATE. THEY ARE FOUND IN SEVERAL GLOBAL LOCATIONS. SINCE THERE IS NO OBSERVED LOCALIZED COASTAL BURIALS OF SEA CREATURES AS LARGE AS THESE TODAY, THE BEST EXPLANATION, FROM THE CREATION PERSPECTIVE, IS A GLOBAL CATASTROPHIC FLOOD. THE FACT THAT SO MANY FEMALE ICHTHYOSAURS WERE BURIED DURING THEIR SPECIES GESTATION PERIOD ALSO ARGUES IN FAVOR OF A VERY RAPID GLOBAL EVENT.
NOTE: MANY ANIMALS, INCLUDING MAN, HAVE BEEN OBSERVED RAPIDLY ABORTING THEIR YOUNG, NO MATTER WHAT STAGE OF GESTATION, WHEN EXPERIENCING IMMINENT, PHYSICAL DEATH. IT IS BELIEVED BY MANY THAT THIS IS AN INSTINCTIVE, INVOLUNTARY ATTEMPT TO GIVE THEIR YOUNG A CHANCE AT SURVIVAL.

Return to Contents