"THERE WERE GIANTS IN THE EARTH IN THOSE DAYS..."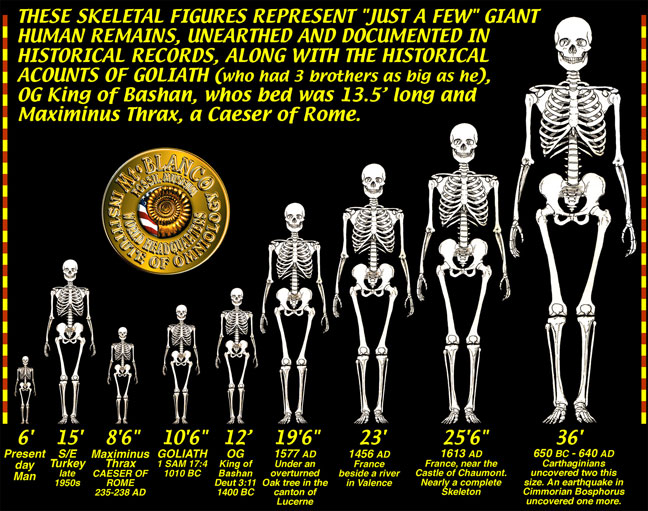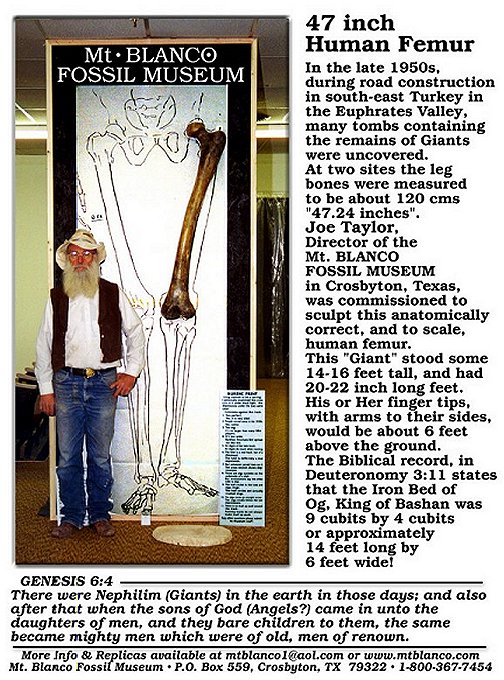 THE CALIFORNIA INSTITUTE OF OMNIOLOGY IS DEDICATED TO RE-ESTABLISHING
"FREE SPEECH & ACADEMIC FREEDOM" FOR EVERYONE. IF YOU AGREE WITH US, WE HOPE YOU WILL E-MAIL OUR WEB SITE TO YOUR FAMILY & FRIENDS.
Giant Bone, Eye Witness Account
Return to Contents
NOW BEFORE YOU DISMISS THIS EVIDENCE AS IMPOSSIBLE AND CLOSE YOUR MIND, READ EVERYTHING FIRST.

THERE IS A VERSE IN THE BIBLE THAT IS FOUNDATIONAL TO ANYONES SEARCH FOR TRUTH. IT STATES; "ON THE EVIDENCE OF TWO OR THREE WITNESSES A MATTER (OR EVERY FACT) SHALL BE CONFIRMED."

THE OMNIOLOGICAL SOCIETY USES HISTORICAL RECORDS, EYEWITNESS ACCOUNTS AND EMPIRICAL EVIDENCE IN THE SEARCH FOR TRUTH.

THE HARD PART IS NOT FINDING THE TRUTH. THE HARD PART IS IN ACCEPTING IT, ESPECIALLY WHEN IT MEANS YOUR PRESENTLY HELD VIEWS ARE PROVEN WRONG.

THE EVIDENCE PRESENTED HERE IS BASED ON THREE WITNESSES.

1. AN EYE WITNESS ACCOUNT
2. BIBLICAL & SECULAR HISTORICAL RECORDS
3. EMPIRICALLY VERIFIED 21.5" MAN TRACKS IN TEXAS & 24" MAN TRACKS IN AUSTRALIA.

THIS EVIDENCE FALSIFIES THE MACRO-EVOLUTIONARY WORLD VIEW THAT MAN EVOLVED FROM LITTLE TINY MONKEYS.

THE PRESENT EVOLUTIONARY ESTABLISHMENT REFUSES TO BE OPEN-MINDED AND INVESTIGATE THE EVIDENCE PRESENTED ON WEB SITES LIKE THIS.
THEY, IN FACT, AGGRESSIVELY ATTACK INDIVIDUALS, SCIENTISTS AND ORGANIZATIONS THAT CHOSE TO FREELY INVESTIGATE AND CHALLENGE THEIR BIASED WORLD VIEWS.

"FREE SPEECH & ACADEMIC FREEDOM" HAVE BEEN REPLACED IN OUR NATIONAL SCHOOL SYSTEMS WITH "SUPPRESSED SPEECH & ACADEMIC INDOCTRINATION."

---
REMEMBER THE WORDS OF JUSTICE WILLIAM O. DOUGLAS "RESTRICTION OF FREE THOUGHT AND FREE SPEECH IS THE MOST DANGEROUS OF ALL SUBVERSIONS. IT IS THE ONE UN-AMERICAN ACT THAT COULD MOST EASILY DEFEAT US."