THE METAPHYSICAL "CREATOR GOD" OF EVOLUTION IS TIME.
WE HAVE ALL BEEN TOLD "THAT GIVEN ENOUGH TIME, LIFE CAN EVOLVE FROM NON-LIVING MATTER!" EMPIRICAL SCIENCE AND "THE LAW OF BIOGENESIS" HAVE PROVEN THAT ONLY LIFE CAN DEVELOPE FROM LIVING ORGANISMS AND NOT FROM NON-LIVING MATTER!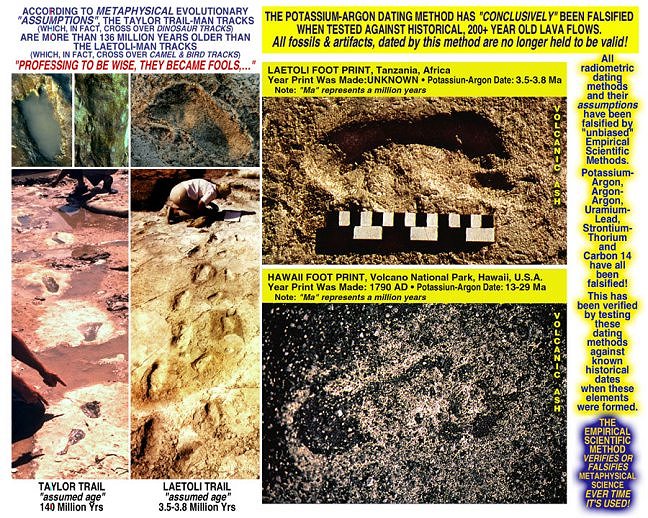 SINCE SCIENTISTS CANNOT DISTINGUISH BETWEEN PRIMORDIAL & INSITU ARGON FROM RADIOMETRIC DECAY OF POTASSIUM AT THIS TIME. AND THE FACT THAT KNOWN HISTORICAL EVENTS HAVE FALSIFIED THIS K-Ar DATING METHOD...ALL DATES ASSIGNED TO FOSSILS AND ARTIFACTS BY THIS DATING METHOD CAN NO LONGER BE ACCEPTED AS ACCURATE OR RELIABLE!
Return to Contents
THESE FACTS ABOUT K-Ar DATING TESTS CAN BE FOUND IN: G.B. Dalrymple, "40Ar/36Ar Analyses of Historic Lava Flows," Earth and Planetary Science Letters, 6 (1969): pp.47-55.

EXCESS 40Ar (150-1500 TIMES MORE ARGON THAN IN THE ATMOSPHER AS PREVIOUSLY ESTIMATED) HAS BEEN FOUND IN BASALT SAMPLES FROM THE NORTH ATLANTIC.