8 UN-ETHICAL EXAMPLES OF ACADEMIC LICENSE OR FRAUD BY SELF AGGRANDIZING (MACRO-EVOLUTIONARY) "EXPERTS" WHO HOLD THEIR INTERPRETATIONS TO BE INFALLIBLY TRUE.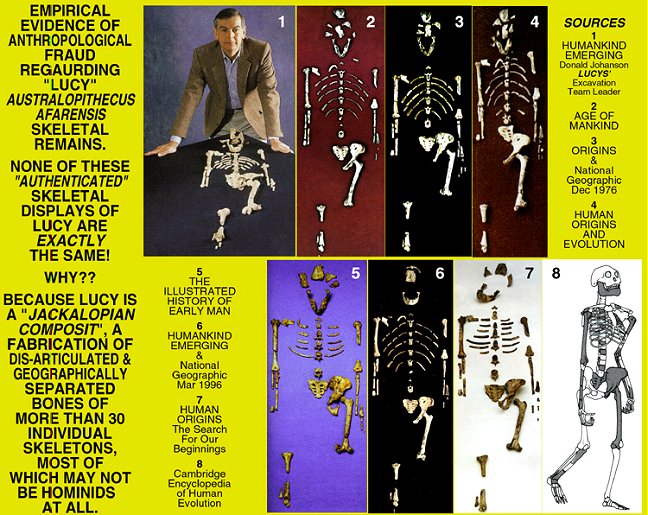 COMMON SENSE & REASON, NOT TO MENTION EMPIRICALLY CONSISTENT EVIDENCE, "REQUIRE" THE EXACT SAME BONES BE PHOTOGRAPHICALLY REPRESENTED EVERY TIME THEY'RE SHOWN! ARBITRARILY ASSEMBLING BONES FROM A PILE IN YOUR LAB AND THEN PRESENTING THEM AS "PROOF" OF YOUR ORIGINAL FIND IS THE HEIGHT OF ACADEMIC ARROGANCE, UN-PROFESSIONAL SCIENCE AND EMPIRICAL FRAUD. METAPHYSICAL SCIENCE IS A "RELIGION" THAT ARBITRARILY DEFINES WHAT IS TRUE AND REJECTS ANY EMPIRICAL EVIDENCE THAT FALSIFIES IT!

THE OMNIOLOGICAL SOCIETY IS DEDICATED TO BRINGING YOU THEIR "REJECTIONS" SO YOU CAN JUDGE FOR YOURSELF.
Click Here & Go To Page 2 of 3 - LUCYISM
Return to Contents
USING THESE COMPARISONS OF "LUCYS" SKELETAL REMAINS, YOU CAN SEE FOR YOURSELF HOW INCONSISTENT AND ARBITRARY THE PROOF FOR THE EVOLUTION OF MAN REALLY IS, OR MORE ACCURATELY, IS NOT.

NOTICE THAT NONE OF THE SKULL, VERTEBRAE, RIBS OR ARM BONE FRAGMENTS ARE ALL EXACTLY THE SAME OR THE SAME IN NUMBER.

YOU ARE FREE TO PUT YOUR "FAITH" IN THIS METAPHYSICAL "PATRON SAINT" OF HUMAN EVOLUTION, BUT THAT DOESN'T MAKE IT TRUE!

THE EMPIRICAL SCIENTIFIC METHOD REQUIRES PHYSICAL AND EXPERIMENTAL EVIDENCE IN ORDER TO PROVE OR DISPROVE A GIVEN THEORY OR HYPOTHESIS.

THIS IS MANUFACTURED, NOT EMPIRICAL EVIDENCE. THEREFORE IT IS NOT EVIDENCE AT ALL!