JACKALOPIAN RECONSTRUCTIONS
OF THE METAPHYSICAL "PATRIARCHS" OF SECULAR HUMANISM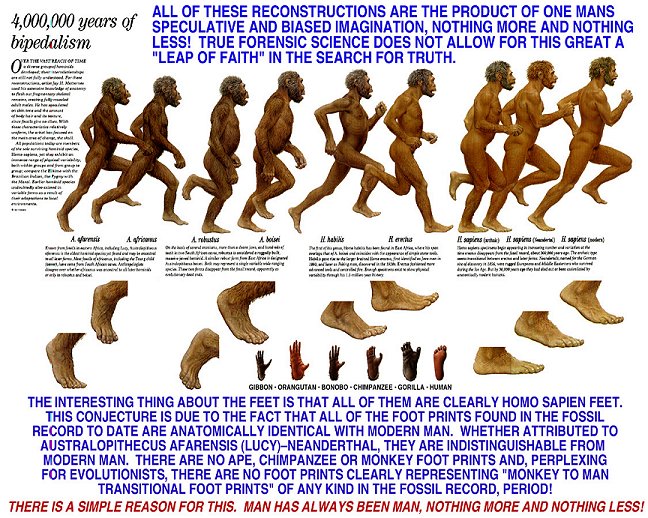 THIS IS NOT A PROBLEM FOR THE CREATION POSITION AT ALL. IT PREDICTS IT!
Return to Contents
EXCEPT FOR THE FIRST SIX HEADS AND SOME OF THE FIRST FOUR ARM LENGTHS, THE BODIES, LEGS AND FEET OF THESE RECONSTRUCTIONS CAN BE FOUND WALKING OUR PLANET, IF NOT OUR NEIGHBORHOODS, TODAY!

TAKE SPECIFIC NOTE OF THE FEET.

THEY REPRESENT THE FACT THAT NOT A SINGLE FOOT PRINT HAS BEEN FOUND, OR PUBLISHED, IN THE FOSSIL RECORD TO DATE THAT IS NOT FULLY "MODERN" HUMAN IN THEIR MORPHOLOGY!