ONLY MODERN ANATOMICAL HUMAN FOOTPRINTS ARE FOUND IN THE FOSSIL RECORD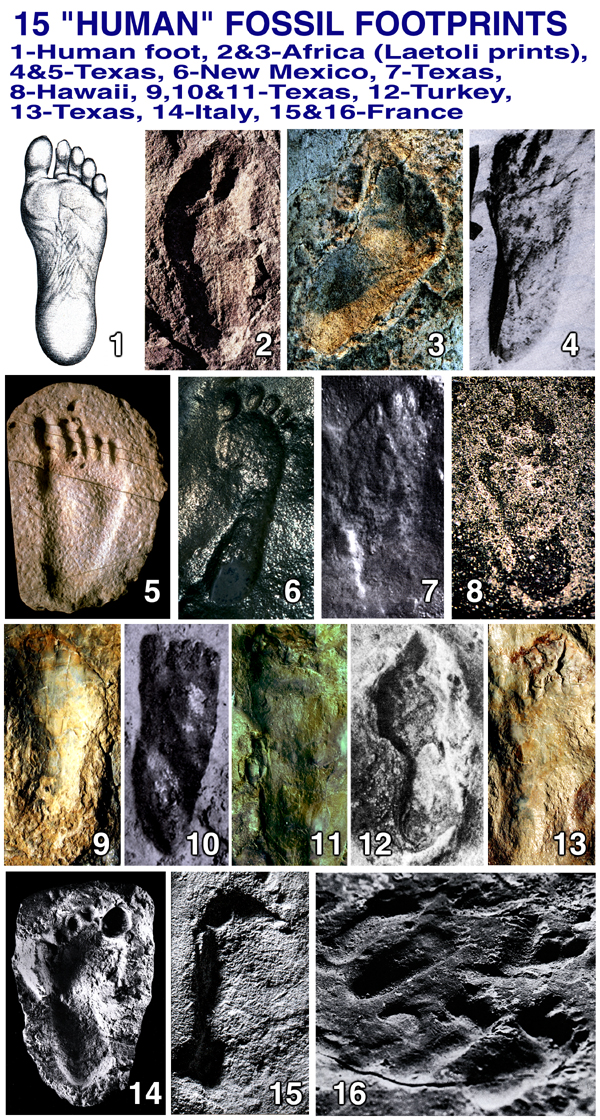 ALL OF THESE FOSSIL FOOTPRINTS HAVE BEEN IDENTIFIED AS INDISTINGUISHABLE FROM MODERN HOMO SAPIEN SAPIEN FOOTPRINTS. FOOTPRINTS #2&3 ARE FROM THE LAETOLI TRACK WAY THAT WAS DISCOVERED BY MARY LEAKEY. THEY ARE CLAIMED TO BE MADE BY AUSTRALOPITHICUS AFARENSIS, RELATIVES OF "LUCY'S FAMILY", SOME 3.1 TO 3.8 MILLION YEARS AGO USING THE NOW FALSIFIED POTASSIUM-ARGON DATING METHOD.
THE FOOTPRINT ANALYSIS AND EXAMPLES BELOW ARE FROM THE PREEMINENT FOOTPRINT EXPERT, DR. LOUISE M. ROBBINS FIELD GUIDE ENTITLED "FOOTPRINTS - Collection, Analysis, and Interpretation."
THE FOLLOWING QUOTE BY DR. ROBBINS, REGARDING THE LAETOLI PRINTS, IS FROM THE NATIONAL GEOGRAPHIC, APRIL 1979.
"THEY LOOKED SO HUMAN, SO MODERN, TO BE FOUND IN TUFFS SO OLD"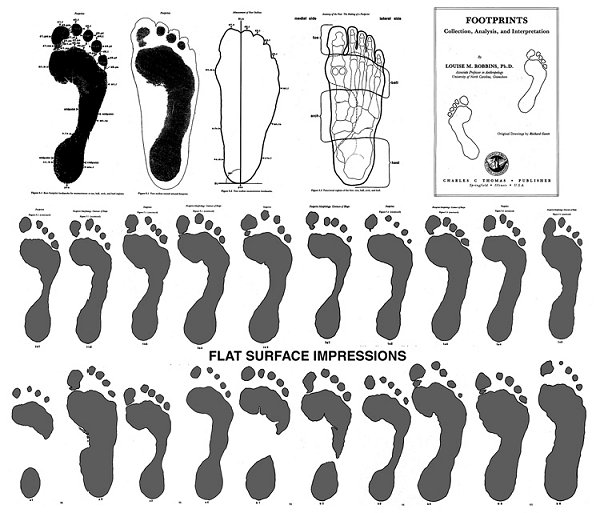 THE FOLLOWING PICTURES REPRESENT SOME OF THE FALSELY DATED, HUMAN FOSSIL FOOTPRINTS. THE HAWAII PRINT (BELOW LEFT) ILLUSTRATES WHY THIS IS TRUE.
THIS FOOTPRINT IS KNOWN TO HAVE BEEN MADE IN 1790 A.D..
THE POTASSIUM-ARGON AGE OF THIS FOOTPRINT IS 13-29 MILLION YEARS OLD! THIS EMPIRICAL FACT CLEARLY FALSIFIES "ALL" POTASSIUM-ARGON DATES ASSOCIATED WITH ANY FOSSIL, FOOTPRINTS OR OTHERWISE!!
AMAZINGLY, THERE ARE NO SUPPOSED "TRANSITIONAL FOOTPRINTS" THAT HAS EVER BEEN FOUND IN THE FOSSIL RECORD TO DATE!
EVEN IF THERE WERE, THE GRAPHIC BELOW ILLUSTRATES WHY THEY WOULD NOT "PROVE" EVOLUTION TO BE TRUE.


NOTE: IF THIS NEXT GRAPHIC FAILS TO LOAD THE FIRST TIME, CLICK "REFRESH" ABOVE

Return to Contents