TIME-LIFE BOOKS CONFIRMS "JACKALOPIAN RECONSTRUCTED NEANDERTHALS"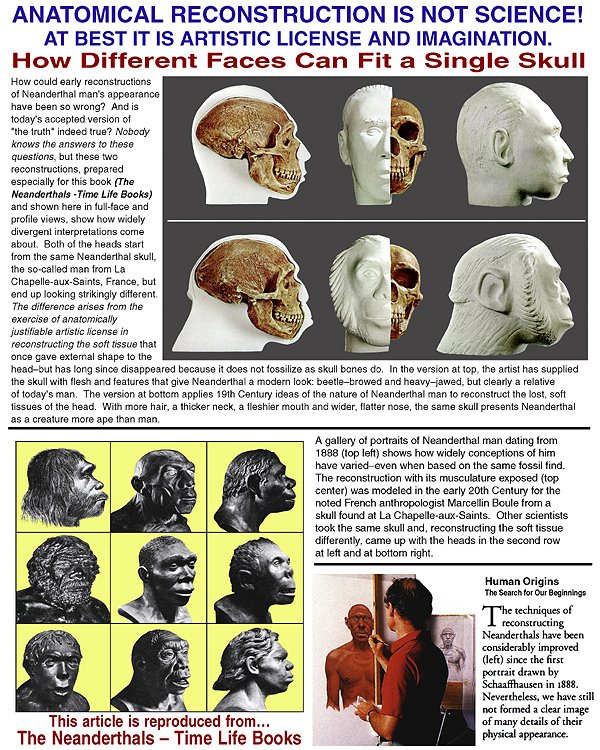 THE CONTENTS OF THIS PAGE WERE TAKEN FROM THE 1973 TIME-LIFE BOOK
"THE NEANDERTHALS."
LOWER RIGHT IS FROM THE BOOK "HUMAN ORIGINS The search for our beginnings"

THIS HONEST AND UNBIASED EVALUATION OF RECONSTRUCTIVE ANATOMY IS NOT ONLY TRUE REGARDING THE NEANDERTHALS.

WHAT'S IMPORTANT TO UNDERSTAND ABOUT THE FIRST FEW SENTENCES IN THIS ARTICLE IS THAT THEY APPLY TO "ANY RECONSTRUCTION" OF SUPPOSED ANCESTORS OF MAN OR ANIMAL IN THE METAPHYSICAL SCIENCE OF EVOLUTION.

THE ONLY PART OF THIS ARTICLE WHERE WE DISAGREE IS THE EXPLANATION FOR WHY THESE RECONSTRUCTIONS ARE SO DIFFERENT.
THESE ARE NOT THE PRODUCT OF "ANATOMICALLY JUSTIFIABLE ARTISTIC LICENSE" AT ALL.
THEY ARE BOTH, IN FACT, THE PRODUCT OF "ANATOMICALLY SUBJECTIVE ARTISTIC LICENSE" PURE AND SIMPLE!

THE ARTISTS WERE GIVEN DIFFERENT INTERPRETATIONS AS TO HOW THEIR END PRODUCT SHOULD LOOK!
ONE ARTIST WAS TOLD THAT THIS INDIVIDUAL HAD A "MODERN LOOK" AND WAS
"CLEARLY A RELATIVE OF TODAY'S MAN."
THE OTHER ARTIST WAS TOLD THAT THIS INDIVIDUAL WAS
"A CREATURE MORE APE THAN MAN."


BELOW ARE MORE EXAMPLES OF THIS "SUBJECTIVE" ART, BUT NOTICE THE PICTURE OF THE AUSTRALIAN ABORIGINE AT THE UPPER RIGHT. HE LOOKS VERY SIMILAR LIKE SOME OF THE RECONSTRUCTIONS ON THIS PAGE, DOESN'T HE?

ANOTHER INTERESTING OBSERVATION IS THE STATEMENT BELOW HIS PICTURE.
"THE GEOGRAPHICAL RACES INTO WHICH HOMO SAPIENS SAPIENS IS DIVIDED ARE A CONVENIENCE, FOR THERE ARE NO CLEAR-CUT DISTINCTIONS. ..."

IT APPEARS THAT JACKALOPIAN RECONSTRUCTED ANCESTORS
ARE A "CONVENIENCE" AS WELL.


THIS BEING TRUE OF NEANDERTHAL, WHO PROVIDES SOME OF THE MOST COMPLETE SKELETAL REMAINS IN THE FOSSIL RECORD OF MAN, IT'S AXIOMATIC THAT IT WOULD REQUIRE A GREATER "SUBJECTIVE LEAP OF FAITH" TO RECONSTRUCT THE MORE FRAGMENTARY REMAINS OF THE METAPHYSICAL ANCESTORS OF MAN.

THIS IS WHAT WE CALL
JACKALOPIAN RECONSTRUCTIVE ANATOMY.

IF YOU LOOK AT OUR WEB PAGE
"LUCY'S FRAUDULENT FRAME, LUCYISM & EVOLUCYISM"
YOU WILL SEE WHY THIS IS TRUE.



Return to Contents