"EMPIRICAL EVIDENCE"
THAT MAN (SOME VERY BIG) AND DINOSAURS LIVED TOGETHER!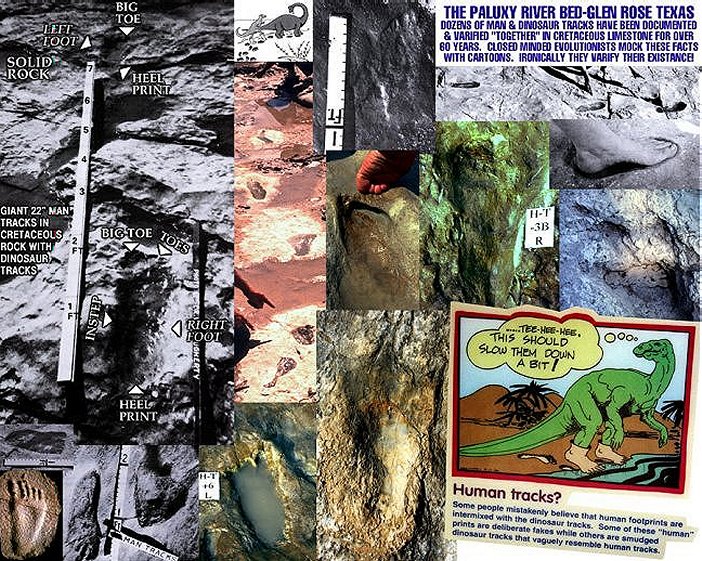 THESE MAN TRACKS, TOGETHER WITH DINOSAUR TRACKS, CREATES A SERIOUS PROBLEM FOR DEVOTEES OF THE METAPHYSICAL MACRO-EVOLUTIONARY FAITH.
ACCORDING TO MACRO-EVOLUTIONARY FUNDAMENTALISTS, (THOSE WHO ARBITRARILY DATE THE CRETACEOUS LIME STONE BETWEEN 140-65 MILLION YEARS) "BELIEVE" DINOSAURS WERE SUPPOSED TO HAVE BEEN EXTINCT AT LEAST 65 MILLION YEARS BEFORE MAN EVOLVED.
THEIR "PROFESSIONAL EXPLANATION" OF THESE TRACKS IS THAT DINOSAURS OCCASIONALLY WORE "HUMAN RUBBER BOOTIES!"

THESE TRACKS ARE NOT A PROBLEM FOR CREATION FUNDAMENTALISTS, (THOSE WHO HOLD TO THE HISTORICAL ACCURACY OF THE BIBLES ACCOUNT OF "GIANTS" AND A GLOBAL FLOOD AROUND 4,300 YEARS AGO) BECAUSE BOTH ARE PREDICTED.

" TABLE 1, BELOW, SUMMARIZES THE HUMAN CHARACTERISTICS OF THE FOSSIL FOOTPRINTS WITH THOSE STANDARDS OBTAINED FROM TWO SEPARATE SOURCES IN ANTHROPOLOGICAL STUDIES. AS CAN BE SEEN BY THESE STUDIES THERE IS NO DIFFERENCE. A TOTAL OF ABOUT 50 HUMAN-LIKE ICHNITES HAVE BEEN REPORTED BY THE CREATION EVIDENCE MUSEUM AT THE McFALL SITE. OUR TEAM STUDIED ONLY THE EIGHT THAT WE HELPED EXPOSE IN THIS CRETACEOUS STRATA.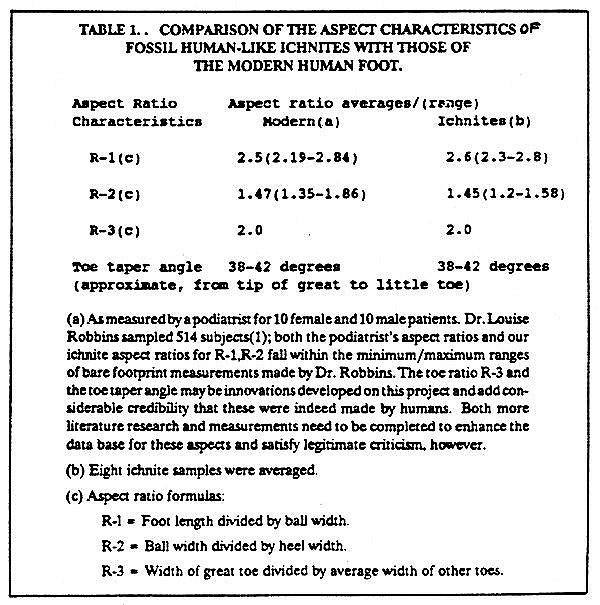 THE CONCLUSION IS INESCAPABLE. NUMEROUS EXCAVATIONS (WITH MANY WITNESSES) OF PRISTINE HUMAN-LIKE ICHNITES HAVE DISCOVERED HOMO SAPIENS MAKING TRACKS WITH DINOSAURS. A NEW SPECIES HAS NOT BEEN DISCOVERED. HUMAN-LIKE TOE TIPS IMPRESSED INTO THE ROCK WERE DISCOVERED AT THE END OF MANY OF THESE HUMAN-LIKE ICHNITE IMPRESSIONS. DINOSAUR DID NOT GROW HUMAN-LIKE TOES ON THEIR TOES. " THEY DIDN'T WEAR HUMAN RUBBER BOOTIES EITHER. " BAREFOOT HUMANS CAN PLACE THEIR FOOT INTO A FOSSIL HUMAN ICHNITE OF EQUAL DIMENSIONS AND KNOW INSTINCTIVELY THAT A HUMAN FOOT MADE SAID ICHNITE. " THIS TABLE WITH BACKGROUND INFO CAN BE FOUND IN THE SCIENTIFIC PAPER BELOW.

"DIRECT DATING OF CRETACEOUS-JURASSIC FOSSILS"
(AND OTHER EVIDENCES FOR HUMAN-DINOSAUR COEXISTENCE)
A Creation Research Science-Education Foundation project, CRSEF, Box 292, Columbus OH 43216
Robert Garbe, Hugh Miller, John Whitmore, George Detwiler, Doug Wilber, Frank Vosler, John Ditmars, D. Davis

Return to Contents