3 EXAMPLES OF JACKALOPIAN RECONSTRUCTIVE ANATOMY - ONE "EMPIRICALLY CONFIRMED" AS BEING A FRAUD, THE OTHER TWO ARE HIGHLY SUSPECT.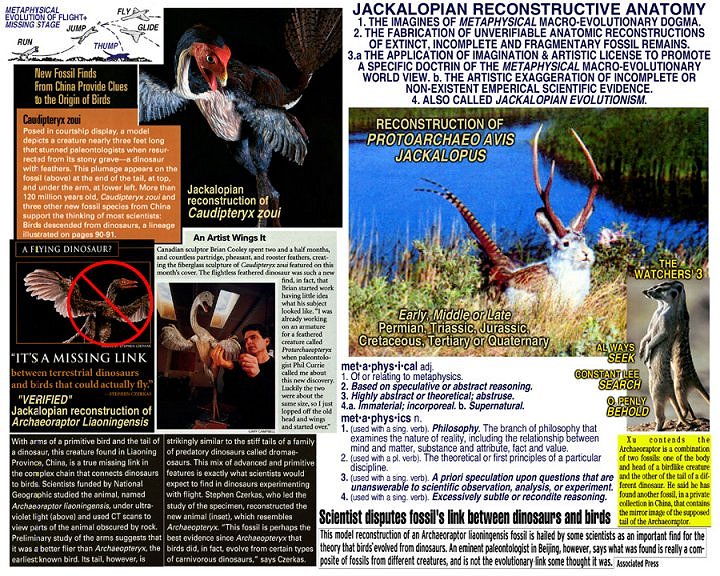 THE "METAPHYSICAL RECONSTRUCTION" OF PROTOARCHAEO AVIS JACKALOPUS IS AS SCIENTIFICALLY LEGITIMATE AS, "IT'S A MISSING LINK", ARCHAEORAPTOR LIAONINGENSIS OR CAUDIPTERYX ZOUI. MOST OF THE PRESENT METAPHYSICAL SCIENTIFIC ESTABLISHMENT HAS ABANDONED THE "EMPIRICAL SCIENTIFIC METHOD"! IN ITS PLACE, "JACKALOPIAN RECONSTRUCTED REALITY". BY SCIENTISTS USING THIS PSEUDO-SCIENTIFIC METHOD, THE PHRASE "SEEING IS BELIEVING" ALSO MEANS "SEEING IS DECEIVING".

THIS "DECEPTION" IS BEING DONE FOR A VERY SPECIFIC REASON. NATURALISTS AND HUMANISTS REJECT, AND ARE COMMITTED TO ERADICATING ANY CONCEPT OF A CREATOR/SAVIOR GOD OR THE HISTORICAL ACCURACY AND AUTHORITY OF THE JUDAIC/CHRISTIAN BIBLE FROM THE MIND OF MAN!

SPEAKING FROM PERSONAL EXPERIENCES, HIDDEN BEHIND MANY A SCIENTISTS Ph.D. IS AN ARROGANT AND FANATICAL BELIEF IN THE "EMPIRICALLY UNPROVABLE, BIG-BANG TO BOB" MACRO-EVOLUTIONARY RELIGION. THE DINO-BIRD "DENOMINATION" BEING REPRESENTED HERE.

NOW, AS AN OMNIOLOGIST I HAVE NO PROBLEM WITH THESE SCIENTISTS PRACTICING THIS RELIGION "BUT" I DO HAVE A PROBLEM WITH THE FOLLOWING.

THE NATIONAL ACADEMY OF SCIENCES, ACTING AS "THE HOLY SEE" FOR CONGRESS, AND THE SUPREME COURT, ACTING AS "THE POPE", HAS ESTABLISHED "METAPHYSICAL EVOLUTION", WHILE SPECIFICALLY EXCLUDING "METAPHYSICAL CREATION", AS THE ONLY "RELIGION" PERMITTED TO BE TAUGHT IN OUR PUBLIC SCHOOLS!

THIS IS A DIRECT VIOLATION OF THE FIRST AMENDMENT OF OUR U.S. CONSTITUTION! SO WHAT SHOULD BE DONE?? WELL, THE CALIFORNIA INSTITUTE OF OMNIOLOGY BELIEVES THAT THE "EMPIRICALLY UNPROVABLE, GOD SPOKE AND THERE'S BOB" INSTANTANEOUS CREATION RELIGION SHOULD BE TAUGHT IN THE PUBLIC SCHOOLS AS WELL. TEACHERS WHO HAVE BEEN TRAINED BY ACCREDITED CREATION SCIENCE INSTITUTIONS, AND THERE ARE MANY, SHOULD HAVE, AS EVOLUTION TEACHERS HAVE, GOVERNMENT FUNDED POSSITIONS IN OUR PUBLIC SCHOOLS. THE NATIONAL ACADEMY OF SCIENCES, APRIL 1976 RESOLUTION, "AN AFFIRMATION OF FREEDOM AND INQUIRY AND EXPRESSION" DEMANDS IT!
Return to Contents
AT LOWER LEFT AND BOTTOM IS THE FRAUDULENT "MISSING LINK" ARCHAEORAPTOR LIAONINGENSIS. "THIS...BEST EVIDENCE...THAT BIRDS DID, IN FACT, EVOLVE FROM...DINOSAURS", HAS BEEN "EMPIRICALLY PROVEN" TO BE "...A COMBINATION OF TWO (DIFFERENT) FOSSILS."!!!

UPPER AND MIDDLE LEFT CAUDIPTERYX ZOUI, OBVIOUSLY A JACKALOPIAN RECONSTRUCTION BY THE FOLLOWING STATEMENTS IN "AN ARTIST WINGS IT".

"...BRIAN STARTED WORK HAVING LITTLE IDEA WHAT HIS SUBJECT LOOKED LIKE.
"I WAS ALREADY WORKING ON AN ARMATURE FOR A FEATHERED CREATURE CALLED PROTARCHAEOPTERYX... LUCKILY THE TWO WERE ABOUT THE SAME SIZE, SO I JUST LOPPED OFF THE OLD HEAD AND WINGS AND STARTED OVER."

"...BRIAN COOLY SPENT TWO AND A HALF MONTHS, AND COUNTLESS PARTRIDGE, PHEASANT AND ROOSTER FEATHERS, CREATING THE FIBERGLASS SCULPTURE OF CAUDIPTERYX ZOUI..."
AS FOR PROTOARCHAEO AVIS JACKALOPUS?
YOU BE THE JUDGE.