LUCKY'S
JACKALOPIAN RECONSTRUCTION FROM ONLY 60 SKULL FRAGMENTS AND AN ARM BONE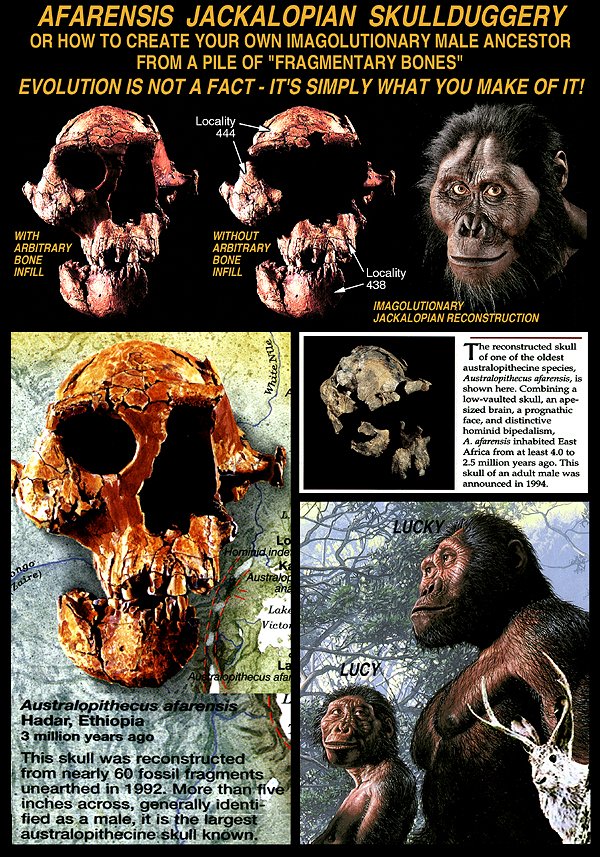 THIS "IMAGOLUTIONARY" RECONSTRUCTION (ABOVE) IS MORE ABSURD, FROM AN EMPIRICAL SCIENTIFIC STANDPOINT, THAN THAT OF LUCKY'S SWEETIE, LUCY.

THESE 60 SKULL FRAGMENTS AND ONE LARGE ULNA (ARM BONE) ARE THE ONLY PHYSICAL REMAINS, THAT HAVE BEEN PUBLISHED, OF THIS SUPPOSED ASTRALOPITHECUS AFARENSIS MALE.

THE FACTS SURROUNDING THESE FOSSILS, IN NATIONAL GEOGRAPHIC MARCH 1996, REVEALS HOW ARBITRARY LUCKY'S RECONSTRUCTION REALLY IS. THE SKULL FRAGMENTS WERE FOUND AT LOCALITY 444 WHILE THE MANDIBLE, ULNA AND FRONTAL (FACIAL) BONE FRAGMENT WERE FOUND AT LOCALITY 438.

AS WITH LUCY'S FOSSIL REMAINS, LUCKY'S FOSSIL HEAD IS ARBITRARILY RECONSTRUCTED FROM THE REMAINS OF MORE THAN ONE INDIVIDUAL! LUCKY IS THE PRODUCT OF METAPHYSICAL EVOLUTIONARY BIAS AND NOT EMPIRICAL SCIENTIFIC FACT.

ANOTHER DECEPTION PORTRAYED HERE IS THAT LUCKY & LUCY WERE "CONTEMPORARY MATES" THEREFORE PROVING THAT THEY ARE OUR EVOLUTIONARY ANCESTORS. THE FACT IS THIS N.G. ARTICLE REVEALS THAT LUCY WAS 180,000 YEARS AND 9000 GENERATIONS "OLDER" THAN LUCKY!

LOOK CLOSE AT THIS GRAPHIC.
THEIR REMAINS WEREN'T EVEN FOUND CLOSE TOGETHER!!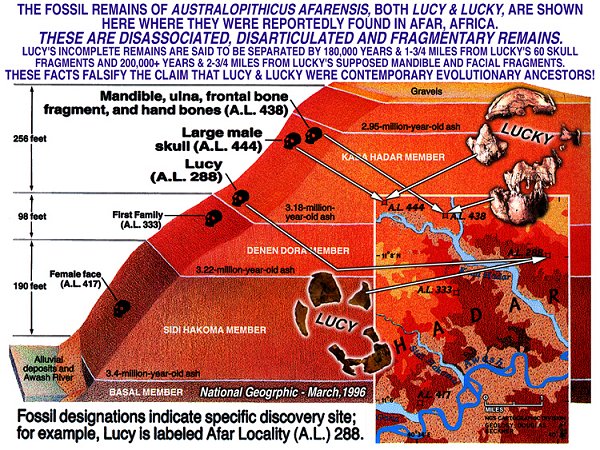 THE SCIENCE OF OMNIOLOGY EMPLOYS THE INTERRELATIONSHIP OF ALL FIELDS OF SCIENCE THAT MAY PERTAIN TO ANY FIELD OF SCIENTIFIC INVESTIGATION. IN THIS CASE, THE HUMAN POPULATION GROWTH STATISTICAL FORMULA P=Po-e^rt HAS BEEN USED TO DETERMINE THE NUMBER OF INDIVIDUALS THAT WOULD HAVE HAD TO PRECEDE THE BIRTH OF LUCKY.

(formula taken from Kilgore College Pre-Calculus Mathematics text, 4th ed., by Karl J. Smith, pg. 200)

THIS FORMULA USES 1/2 OF 1% GROWTH RATE (r), NOT THE NORMAL 2%.
Po = 2, e = 2.718, r = .005, t = 180,000. USING A GOOD SCIENTIFIC CALCULATOR...
.005 x 180,000 Enter = 900. 2.718^900 Enter x 2 Enter.
THE ANSWER IS 1.33 x 10^391.

IN PLAIN LANGUAGE THERE WOULD HAVE TO HAVE BEEN "133" FOLLOWED BY "389 ZEROS" OF INDIVIDUAL LITTLE AFARENSIS ANCESTORS PRECEDING THE BIRTH OF LUCKY!!

FOR THE EVOLUTIONARY INCREDULOUS, THAT NUMBER LOOKS LIKE THIS. 133,000,000,000,000,000,000,000,000,000,000,000,000,000,000,000,000,000,000,000,000, 000,000,000,000,000,000,000,000,000,000,000,000,000,000,000,000,000,000,000,000,000, 000,000,000,000,000,000,000,000,000,000,000,000,000,000,000,000,000,000,000,000,000, 000,000,000,000,000,000,000,000,000,000,000,000,000,000,000,000,000,000,000,000,000, 000,000,000,000,000,000,000,000,000,000,000,000,000,000,000,000,000,000,000,000,000, 000,000,000,000,000,000,000,000,000,000,000,000,000,000,000,000,000,000,000,000,000, 000,000,000,000,000,00

IF YOU THINK THIS ANALYSIS IS ABSURD, COMPARE IT WITH THE OBSERVED POPULATION GROWTHS BELOW.
According to infoplease.com, World Population Milestones reached:
1 billion in 1804, 2 billion in 1927 (123 years later), 3 billion in 1960 ( 33 years later),
4 billion in 1974 ( 14 years later), 5 billion in 1987 ( 13 years later) and 6 billion in 1999
( 12 years later)

TAKING INTO ACCOUNT ALL THE WARS, FAMINE AND PLAGUES IN THE PAST 195 YEARS, THE WORLDS POPULATION HAS STILL GROWN FROM 1 TO 6 BILLION IN THAT LIMITED AMOUNT OF TIME! DO THE MATH FOR YOURSELF.
AT THIS RATE, HOW LONG WILL IT TAKE US TO FILL THE 57,510,000 SQUARE MILES OF THE EARTH'S LAND AREA??

THE ONLY THING THAT IS ABSURD HERE IS THE MACRO-EVOLUTIONARY "SILLORY" OF MAN!!

THERE IS ANOTHER PROBLEM WITH THIS EVOLUTIONARY SILLORY,
WHERE ARE ALL THESE FOSSILS??

IF LUCY'S FAMILY IS AS OLD AS STATED, THEIR FOSSILS SHOULD, AT THE LEAST, BE FOUND EVERYWHERE ON PLANET EARTH! THEY ALL COULDN'T HAVE LIVED AND DIED JUST IN THE TIP OF AFRICA AS EVOLUTIONISTS INSIST THEY DID.

THE FACT THAT ALL OF LUCY'S "SPARSE" FAMILY FOSSILS ARE ONLY FOUND IN ALLUVIAL (FLOOD) DEPOSITS (BELOW) MORE ACCURATELY AND LOGICALLY FITS THE CREATIONISTS YOUNG EARTH, GLOBAL FLOOD WORLD VIEW.





Return to Contents