THREE SIMPLE EXAMPLES HOW ENTIRE SPECIES OF EXTINCT ANIMALS CAN BE WRONGLY RECONSTRUCTED WITHOUT KNOWING THE, "PREPROGRAMMED," SOFT TISSUE FORM TO GO BY.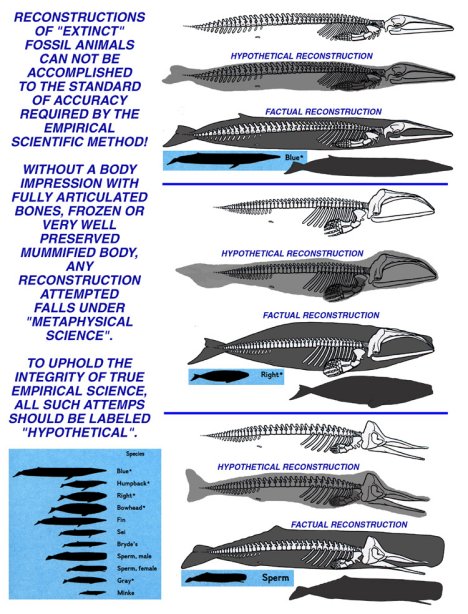 THESE 3 LIVING WHALES, THE BLUE, RIGHT AND SPERM, ILLUSTRATE HOW THE METAPHYSICAL EVOLUTIONARY DEFINITION OF "COMMON STRUCTURES" CAN BE GROSSLY MISINTERPRETED.
CONSIDER THE THREE "COMMON STRUCTURES" AS FOSSILS SKELETONS. IMAGINE, AS EVOLUTIONISTS DO, THESE SKELETONS BEING FOUND AS EXTINCT, PARTIALLY COMPLETE ANIMALS. THEY'RE FOUND IN DEFERENT LOCATIONS & LAYERS OF THE FOSSIL STRATA. BY ARRANGING THEM IN TOP-BOTTOM-CENTER OR CENTER-BOTTOM-TOP ORDER, YOU COULD SAY (PROVIDED YOU HAVE A Ph.D. IN EVOLUTIONARY PALEONTOLOGY) THAT THEY REPRESENT "PROOF" OF EVOLUTION.
THE "EMPIRICAL" FACT IS, THESE CREATURES ARE LIVING AT THE SAME TIME. THEY ARE CONTEMPORARY SPECIES WITH "COMMON INTERNAL STRUCTURES" BUT "UNCOMMON EXTERNAL STRUCTURES" AND THEY DO NOT & CANNOT INTERBREED.
THIS BEING TRUE, IS IT NOT POSSIBLE THAT THE FOSSIL RECORD REPRESENTS A CATASTROPHIC BURIAL OF CONTEMPORARY CREATURES, CREATED FOR SPECIFIC PURPOSES BY A CREATOR USING "COMMON DESIGN" PRINCIPLES WHILE LIMITING MICRO-EVOLUTION WITHIN REPRODUCIBLE SPECIES?
Return to Contents